Non-technological opportunities and barriers
A first focus point in FRESH4Cs is the identification of non-technological barriers and opportunities for the implementation of alternative freshwater resources. We have organized a series of interviews with stakeholders and experts in each region to identify those barriers and opportunities and to gain an understanding of the regional decision system. Over the next weeks and months, we will launch surveys in the different regions to poll a wider audience of water users (particularly farmers) for factors influencing their willingness to invest in different alternative water resources. A first survey has recently been launched in Belgium.
In the Braakman-Zuid region (the Netherlands) we have organized follow-up workshops of the interviews to identify specific water storage opportunities. Local farmers and industries have been discussing the possibilities to work jointly towards a sustainable solution for water provision in the region. These workshops will be followed by a concrete creek ridge infiltration pilot scale installation in 2021.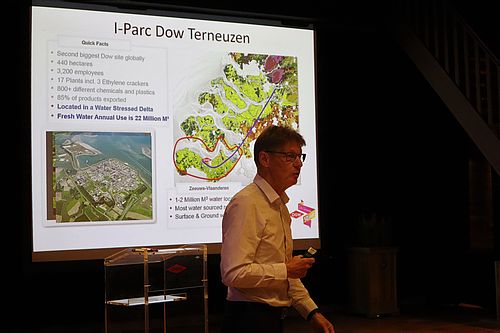 Stakeholder event at Braakman South (March 2020)
Progress of the demo cases
The different demonstrations of FRESH4Cs are now in different phases of planning and construction. A water transfer network, connecting the mouth of a drainage channel with reservoir basins at farming fields, is under construction in the Felixstowe area (UK). The network, including a pumping station, will be operational by December 2020. Water will be transferred and stored during periods of water abundance (winter period) to serve for irrigation of agriculture fields in summer. With the network nearing completion soon, it will be operated to irrigate crops in the next growing season (spring and summer 2021).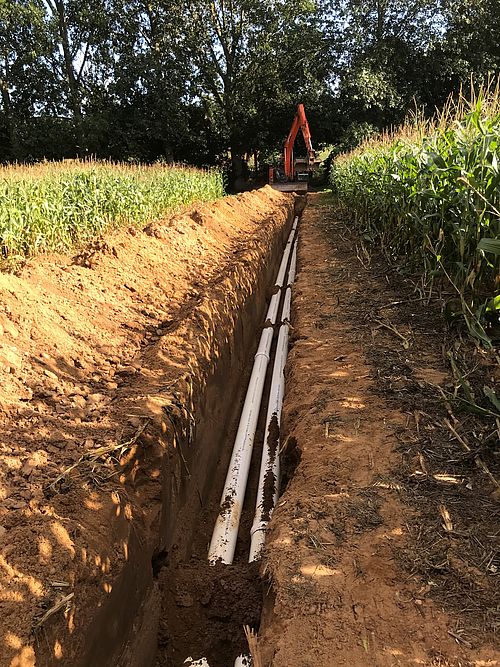 Works at the Felixstowe water transfer network (September 2020).
This water transfer network will also be connected to a second demo in the UK: managed aquifer storage and recovery. In a first phase we modelled the potential of the aquifer to seasonally store and abstract water. Water quality is an important issue for aquifer recharge, and monitoring will determine the suitability of available water for such aquifer recharge. Over the next year we will continue to monitor available water quality to determine its suitability, while permit applications are ongoing. If permits are obtained, this demo will be effectively operational by next winter.
In Koksijde (BE), we will demonstrate the use of a nature-based solution (willow field) to treat the concentrate of an existing reverse osmosis (RO) installation currently treating household waste water effluent to drinking water quality. This installation will decrease pollution load (nutrients and metals) and we will test how the new water stream can be used. Over the last year the system has been designed, and we are now waiting for the completion of the permit application to effectively start construction. If all goes as planned, we hope to have the demo running by the end of 2021.
In Kwetshage (BE) we will demonstrate above ground and subsurface storage (creek ridge infiltration) of seasonal water surpluses in a natura 2000 area, to provide water during drought periods. Although nature will be the main beneficiary here, this demo is mainly intended as a proof of concept to ensure further uptake by both nature and agriculture in the region. This demo has now been engineered, but additional studies are needed to assess the influence on the stability of nearby infrastructure. This causes a delay in the planning and permitting phase, and we hope to have this demo running by spring 2022.
In the Braakman-Zuid region (NL) subsurface water storage (creek ridge infiltration) will be piloted after an initial feasibility study. The primary water users are industry (Dow Benelux) and local agriculture. After organizing different workshops with local stakeholders in early 2020, we are now in the engineering phase of a first pilot installation and if permits are obtained in a timely manner, we hope to operate the demo as of spring 2021
In Kruiningen (NL) we are testing the possibilities for surface and subsurface storage of food-industry effluent (from Lamb Weston / Meijer), for reuse as agricultural irrigation water. The focus here is on water quality and treatment requirements where necessary, as well as the technical aspects of the storage. The result will be a feasibility study. Monitoring and planning is now being carried out, with results expected in late 2021.
In these different cases monitoring of water quality (and sometimes quantity) plays an important role to ensure proper functioning and evaluation of chosen technologies. At the same time, cooperation between governments, industry and farmers has proven to be key to successful implementation.
Planning and outlook
For FRESH4Cs, 2021 will be an important year: four of our demos hope to receive their final permits and construction/implementation will start later that year. Meanwhile the Felixstowe water transfer demo will be fully operational. If no delays with permits occur, we hope that all demos will be under construction or operational by the end of 2021. An important part of the project is inspiring other stakeholders to invest in comparable technologies; we will achieve this by organizing field visits to our investments, and through both national and an international workshop. The timing of these events largely depends on the progress of the demos; the first events will be organized in summer 2021 in the UK, while most events are planned for early 2022.
More information
Vlaams Kenniscentrum Water Vlakwa
Bastiaan Notebaert – project coordinator