What are the water needs and expectations of farmers in the Oudland Polder?
The Centre of Expertise for Innovation and Entrepreneurship of the HZ University of Applied Sciences (NL), the Vlaamse Landmaatschappij (BE), ILVO (BE) and Vlakwa (BE) surveyed farmers in the Oudland Polder, where the FRESH4Cs project will demonstrate creek ridge infiltration as a sustainable freshwater source. The results give us insight into the water demand and the water sources that farmers are currently using for various purposes. The survey was completed by a total of 101 farmers.
What do farmers use water for?
Primarily, farmers in the Oudlandpolder use water to irrigate or protect their crops, as drinking water for livestock, and to clean stables and milking plants.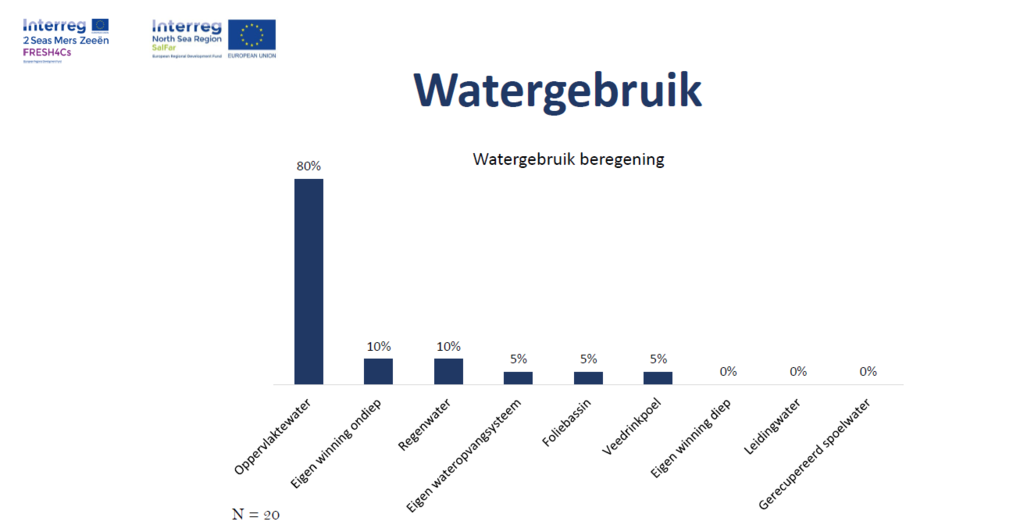 Surface water is clearly the most popular source of irrigation among respondents at 80%. Surface water is also most often used for crop protection (61%), but here farmers also use rainwater more often (46%).
More water challenges for the future
The survey also queries experiences with and expectations of water issues. Responses indicate that currently flooding is reported as a problem slightly more often than water shortage, but farmers do expect water scarcity to become more important in the future.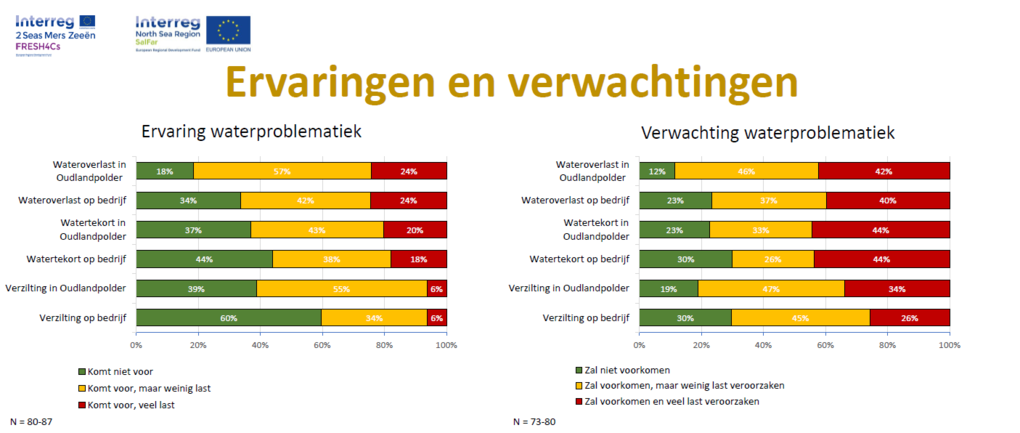 All types of water problems are expected to become more prevalent and pressing in the future, both on the farm and in the Oudland Polder. The graphs show that the group of respondents who will experience much inconvenience (red category) increases by at least 16% to a maximum of 28%.
Perspective and barriers for solutions
In the survey, we elaborate on the possible solutions for both flooding and water shortage. It examines which solutions farmers are already implementing or want to implement, and whether they want to do this individually or collectively. We also specifically ask about the most important barriers for implementing the solutions.
Adapted water level management and widening of ditches are put forward as the most important solutions for flooding, where collective solutions are usually preferred to individual solutions.
For the drought measures we see a more variable picture of results. A number of respondents mention specific benefits that measures have brought. The advantages are focused on meeting the water demand and realizing a larger water supply: "Storing rainwater and drainage under the stables is an added value". The disadvantages they indicate are inadequate water quality and the costs associated with measures: "We have to pay to pump up water."
Many farmers are considering water sustainability measures but are not yet implementing them. In summary, the main barriers to alternative water sources for farmers are:
Cost and a lack of knowledge about the price
Water quality
Effectiveness
If you would like to see the results in more detail, you can read the short report.